Local
Scandal! Finance ministry authorises US$900 000 payment for PPE inflated by US$575 000
Permanent Secretary in the Ministry of Finance and Economic Development, George Guvamatanga been exposed for authorising the procurement of face masks at a ridiculously high price form a company allegedly linked to President Mnangagwa's son Collins.
Zimbabwean journalists Hopewell Chin'ono and Brezh Malaba questioned how the government could have bought face masks for "US$28 each and go on to pay US$987 000 for personal protective equipment at such scandalously inflated prices?"
He suggested that state resources are being looted under the guise of fighting against coronavirus.
In response to these allegations, Guvamatanga said that he only authorised payment for Covid-19 test kits in the letter he wrote to the Health Permanent Secretary. He said:
"The letter was only authorizing the release of test kits that were in urgent need. The same letter clearly states that previous correspondence that cancelled the purchase of PPE's remained in force."
However, Hopewell Chin'ono has challenged the permanent secretary producing the letter for the approval turning into millions of dollars. He said;
"Now Perm Sec@GGuvamatanga Is it TRUE or FALSE that you approved this US$1million payment to Drax International a company linked to President Mnangagwa's son, Collins, for these Covid-19 goods? Did this go to tender? Why did you earlier deny saying that it was only for test kits?"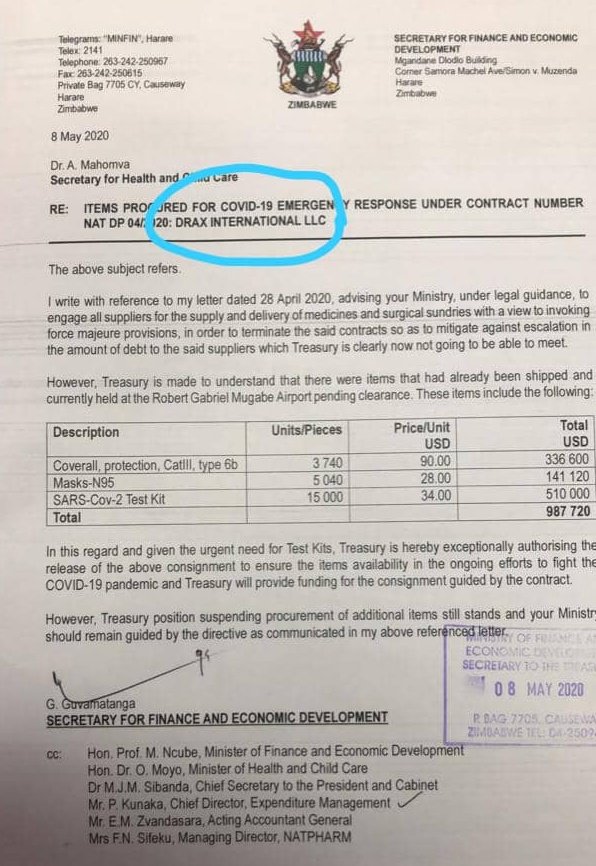 Chin'ono even challenged Guvamatanga whether the purchase went to tender and revealed how some in the government are fed up with the looting.
"What did you authorise sir? Did you not buy the goods in the box? Did the purchase go to tender? Is Drax not related to the President's son Collins? Can you come out clean on ALL the Covid-19 purchases? The media has ALL the documents bcoz some in Government are sickened by this!", Chin'ono asked.
Some, however, commented saying it indeed go to tender and the government preferred those who were agreeable to Zimbabwe dollar terms of payment.
It was Tender number MOHCC-CT-005/2020 which received a lot of respondents. Almost all that placed bids for those items had prices lower than the Drax bid. Other bids were rejected as they said they were giving preference to those accepting payment in ZWL

— Progress Nyasha (@ProgressNB) May 27, 2020
According to Chin'ono, the prices of the PPE was inflated by over 200%.
"@MthuliNcube
& his Perm Sec
@GGuvamatanga
have astonishingly authorised public funds to pay US$28 for something that costs US$5. To pay US$90 for PPE that costs US$20. Blowing millions all in all. Mnangagwa is surrounded by REAL THIEVES! He is the Don!"