An unidentified woman dumped her newborn child in a 15-feet deep septic tank moments after giving birth leaving him for dead in Mkaomoto area, Malindi sub-county.
A passer-by who heard the infant crying alerted residents who came to rescue the child by going down the septic tank using a ladder.
A video shared by residents revealed how the child was placed in an open box without clothes while still crying after the good samaritan rescued him.
There were two snakes that had surrounded the child when he was rescued but luckily, they did not harm him.
It is believed that the mother dumped him soon after giving birth.
Hundreds of curious onlookers who had turned up to witness the rescue mission cursed the woman for dumping the child.
The man who got inside the septic tank wrapped the infant in a leso and safely rescued the baby who was still crying and handed him over to a group of women who were waiting outside.
"We will have to first go and wash her with warm water before he is taken to hospital," a woman was heard talking in the local Giriama dialect.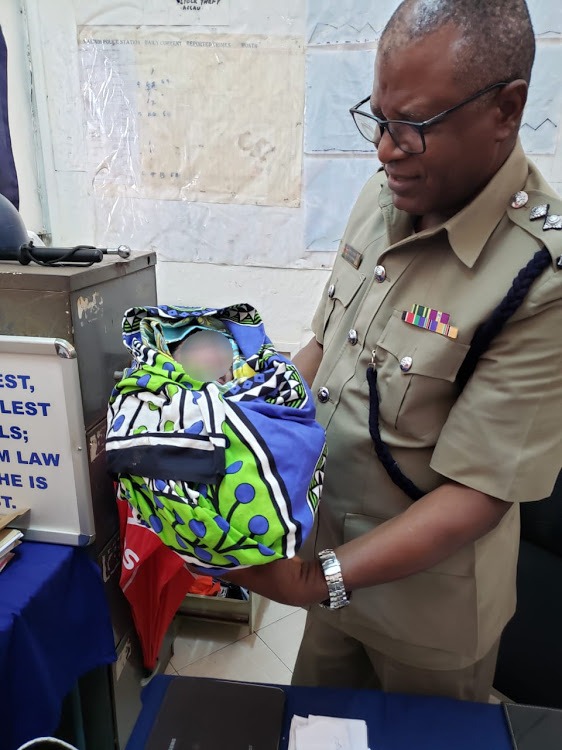 The child was later taken to Malindi sub-county hospital and medical personnel after an assessment found him in good condition.
Stakeholders at the Malindi Gender-Based Violence shared the video in their WhatsApp group where members condemned the act.
They later shared a photo of the baby being held by Malindi OCS Stephen Mwachia with a caption of thanking him for supporting after he bought diapers, milk and clothes.
Held Esliy a Gender-Based violence activist from Malindi told the Star that she got information that the residents had rescued the infant.
She condemned the act and termed it inhuman and appealed with security agencies to deal with the matter conclusively so that the perpetrator is brought to book.
"Police are looking for the mother of the child. As a mother I condemn the act, a child is an angel how does one do such an inhuman act to an innocent soul?" she posed.
Malindi police boss Joe Lekuta, when contacted for comment, said he would give details of the incident after finishing with President Uhuru Kenyatta who is on a tour of Jilore in Malindi.-The Star